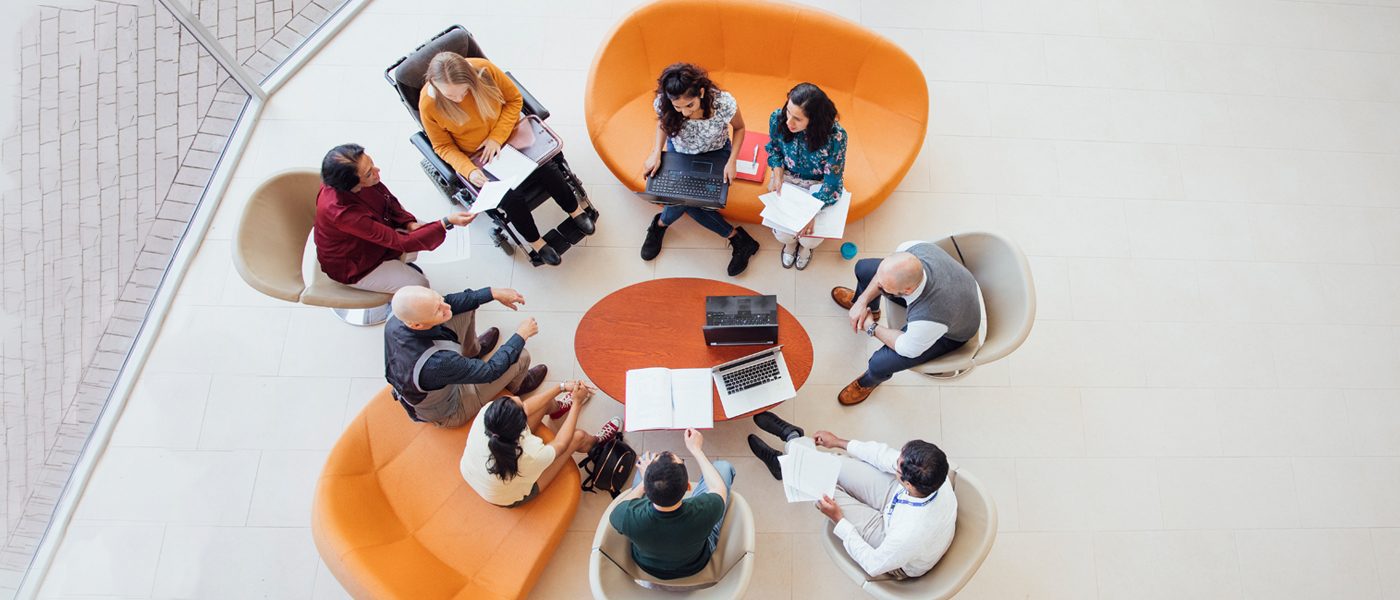 The power of delivering on diversity and inclusion
The power of delivering on diversity and inclusion
Great partnerships: Fred and Ginger, fish and chips, Lennon and McCartney, Diversity and Inclusion… Let's be honest, most of us were expecting Ant and Dec to round off that list, yet for those responsible for employee wellbeing, Diversity and Inclusion are today's most topical wedded pair. But how well do we understand them, and are they a perfect match or is it time for a little conscious uncoupling?
Most of us could take a stab at defining diversity in the workforce: a collection of people of different ages, genders, cultures, race, ethnicity, religion, abilities and disabilities, sexual orientation, geographies… Diversity is about recognising difference and acknowledging the benefit of a range of perspectives.
Inclusion is perhaps harder to pin down, but we'd define an inclusive environment as one in which all individuals feel free to be themselves, are treated fairly and respectfully, and have equal access to opportunities and resources.
If diversity is being invited to a dinner party with a whole range of guests who are all very different to you, then inclusion is being welcomed on arrival, being asked for your view on the seating plan, having your food allergy catered for, sitting next to someone who shows an interest in your opinions and being thanked for your contribution by the host.
It's important to understand the difference; just because you're invited to the party doesn't make it a good experience when you get there. In the same way, a diverse workplace isn't necessarily inclusive. Diversity might attract you to an employer, but inclusion is what will encourage you to stay. Through inclusion we harness the potential of diversity to be successful and thrive together. And it's their combined power that brings a whole raft of benefits for your business and your employees.
Why Diversity and Inclusion matter
Here's a quick reminder of why this should be high on your agenda:
Deliver higher financial returns
Diversity is good for your bottom line. A few salient figures:
• A 48% differential likelihood of outperformance separates the most and the least gender-diverse companies.
• Companies in the top quartile of ethnic and cultural diversity outperform those in the lowest quartile by 36% in profitability(1).
One of the reasons, perhaps, why Nasdaq is proposing that companies on the exchange have at least two diverse board members or be delisted.
Foster greater creativity and innovation
Innovation requires a different way of thinking, which is more likely when people of diverse experiences, backgrounds and outlooks come together. Organisations with inclusive cultures are six times more likely to be innovative and agile, solving potential problems with more creative solutions(2), and those with more diverse leadership also report higher innovation revenue(3):
Better attract and retain talent
When you embrace diversity, you recruit from a wider range of candidates and a larger talent pool. 76% of job-seekers say diversity is an important factor to them when evaluating companies and job offers(4), and it follows that if your employees feel accepted and valued, they're more likely to stay with you.
Improve performance and productivity
A diverse workforce that better represents and understands your customer base makes sound business sense. Diversity leads to stronger governance and better decision-making, with generational diversity in particular shown to improve organisational performance and productivity.
Cleo Thompson, Head of D & I at Marks & Spencer sums up what's at stake: "Now more than ever, our customers are looking to brands they can trust and have confidence in. They want to know that we're taking action to address the issues they care about most, such as inclusion." But how do we take action?
How to deliver on diversity and inclusion
Take a holistic approach
Diversity and inclusion are not simply HR issues. They affect the whole of your business, so your strategy needs to be business led and business wide. It also needs to come from the top down – your leaders need to be committed and ask everyone else to join them on the journey.
At Marriott International the leadership team deliver their strategy, literally: "We'll have an executive talk about a DE&I topic," explains David Rodriguez, Chief Diversity Officer. "They are first charged with educating themselves on a specific topic, for example eradicating unconscious bias, because then they become the teacher/ facilitator for this forum."
The shift in culture comes when everyone – from the board through to middle managers and employees – recognises that diversity and inclusion are beneficial and can genuinely drive the success of the company.
Set goals, measure, and follow through
Setting and measuring against tangible goals makes it real for everyone and helps inspire change – you're looking for an enduring culture reset not a tick-box exercise. Targets for diversity should span the whole of the business. Look at your data: which groups are still under-represented, how equal is your pay, could analytics tools help you manage promotions more fairly? To improve inclusion, try setting targets for equality, belonging, openness and transparency.
Co-op did just that. In 2018, 70% of applicants at the time were straight, white, able-bodied, heterosexual men. They worked on balancing the pipeline between males and females so that it's now 50:50 across all roles, increasing women in leadership positions by 30%, and increasing their black, Asian and minority ethnic hires by 30%. For Rachel Bickerstaff, Co-op's Leader of D&I, the effect on inclusion has been clear: "78% of colleagues feel that their manager creates an inclusive environment, and 73% believe their manager nurtures diverse teams."
Make everyone accountable
Setting goals and measuring against them will only achieve results in the long term if everyone is held accountable, action is taken and if there is zero tolerance for exclusionary behaviour.
Companies with high diversity and inclusion scores are increasingly making their leaders accountable. At Neilson Global Connect, leaders' remuneration is directly linked to engagement with D&I and has had a real impact on changing the culture(5). Marriot's David Rodriguez agrees: "There's no bonus plan more powerful than knowing that you're going to be held accountable by a court of your peers and your superiors on your responsibilities in this area."
Communicate, communicate, communicate
To implement your strategy, you first need to get people onside, which is where your employee communications come in. They play a key role in creating, supporting and maintaining a more inclusive company culture, helping employees understand how they contribute to your organisation's success as well as promoting employee engagement, which in turn leads to better performance, wellbeing and retention.
Here are our top tips to make your comms more inclusive:
Be open – keep people up to date with your diversity policies and practices, celebrate your successes, be honest about your failures, and explain how you aim to do better.
Listen – actively seek your employees' opinions with two-way communication. Surveys are a useful start, but consider forums, focus groups and even one-to-one meetings.
Give everyone a voice – inclusivity means all voices should be heard, so use a wide range of communication channels – newsletters, in-house magazines, intranets, podcasts and social media – everyone should feel able to contribute.
Face up to bias – ensure your content and activities represent the majority and the minority groups within your organisation, try to feature a balanced blend of voices and opinions.
We may still have a long way to go before diversity and inclusion are embedded successfully in the workplace. But it seems clear that the power of delivering on diversity and inclusion offers a unique and compelling opportunity: a chance for everyone in your organisation to contribute, grow and thrive, for you to gain the trust and confidence of your customers, and for your business to prosper.
And which one of us wouldn't look forward to that party?
(1) Diversity Wins, 2020, McKinsey
(2) The Diversity and Inclusion Revolution, Deloitte 2018
(3) How Diverse Leadership Teams Boost Innovation, Boston Consulting Group, 2018
(4) What Job Seekers Really Think About Your Diversity and Inclusion Stats, Glassdoor, 2021
(5) WorkplaceIntelligence.com report sponsored by Oracle.