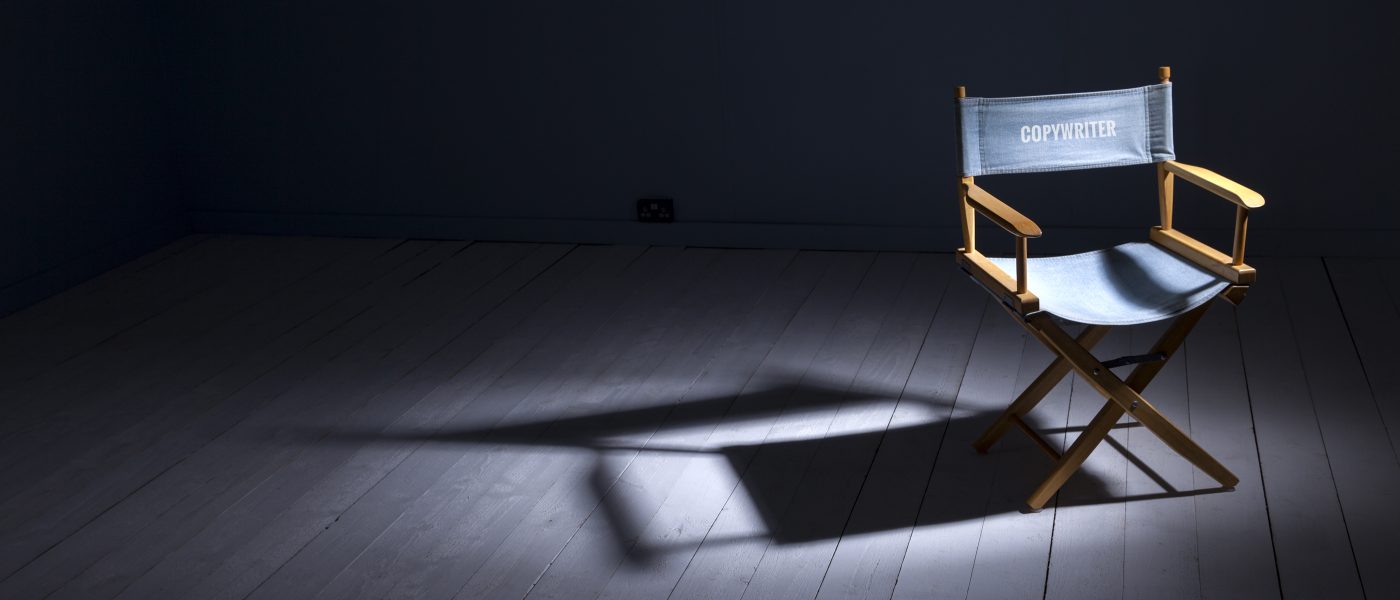 Attention, interest, desire and… ACTION!
Attention, interest, desire and… ACTION!
The headline on the flyer, left on the table in my local pub, read, "Have You Ever Wondered if There's an Actor Inside You?"
"You had me at hello." (Renee Zellweger as Dorothy Boyd, JerryMaguire, 1996)
Two things occurred to me.
Good example of the correct way to use a question in a headline. It grabs the attention of the target audience in a personal way – simultaneously dismissing the people we're not interested in.
Yes, I have sometimes wondered if there's an actor inside me.
Not only have I wondered about it, I'm pretty sure of it. I mean, copywriter and actor – many similar thought processes, surely? Both attempt to grab the audience's attention, and maintain it with a compelling delivery.
"You had my curiosity. But now you have my attention." (Leonardo DiCaprio as Calvin Candie, Django Unchained, 2012)
Both set out to tell or contribute to a story in a truthful way.
"I want the truth!" You can't handle the truth!" (Tom Cruise as Daniel Kaffee. Jack Nicholson as Col. Jessep, A Few Good Men, 1992)
Grabbing the bull by the horns, I responded to the flyer and enrolled in the class. But over the following weeks, I did no acting whatsoever. This is because I, and my fellow thesp's, became deeply embroiled in something that actors do a heck of a lot of.
Preparation.
During intensive scene study sessions, the coach showed us how to break down the script, analyse it line by line, and turn it inside out; asking questions about the back story and setting, characters, relationships and objectives. Not unlike how I approach the next piece of copy; often interrogating a set of tone of voice and brand guidelines before pouring over the brief – so as to reach a state of readiness, where the creative stuff can really begin.
"All things are ready if our mind be so." Shakespeare, Henry V.
Whether it's an email for Anglo American, a landing page for Unum or a prospectus for Mossbourne – each communication needs to be written 'in character', true to the brand story. It must come from a place of truth in order to be believed, it must be delivered with impact in order to be noticed, and it must contain relevance in order to resonate with the audience's expectations and needs.
"They call it a Royale with cheese." (John Travolta as Vincent Vega, Pulp Fiction, 1994)
It must speak directly, one to one. Understanding you, your experience, your world. And it cannot be a rehash of the last piece you read.
"I stand upon my desk to remind myself that we must constantly look at things in a different way." (Robin Williams as John Keating, Dead Poets Society, 1989)
Ignoring the rules can only result in disaster.
"What we've got here is a failure to communicate." (Strother Martin as the Captain, Cool Hand Luke, 1967)
I persevered with the classes, the intensive preparations and rehearsals. And (not without trepidation), when opening night came, the graft paid off – with no need to 'think' about doing any acting.
"I never act, I simply bring out the real animal that's in me." Willem Defoe
I hugely enjoyed the whole experience, and felt that I'd answered the question on the flyer. Only, now I wondered why I hadn't done it years earlier.
"…I could've had class. I could've been a contender. I could've been somebody, instead of a bum*, which is what I am." (Marlon Brando as Terry Malloy, On the Waterfront, 1954).
*Copywriter.
Ian Hoyle