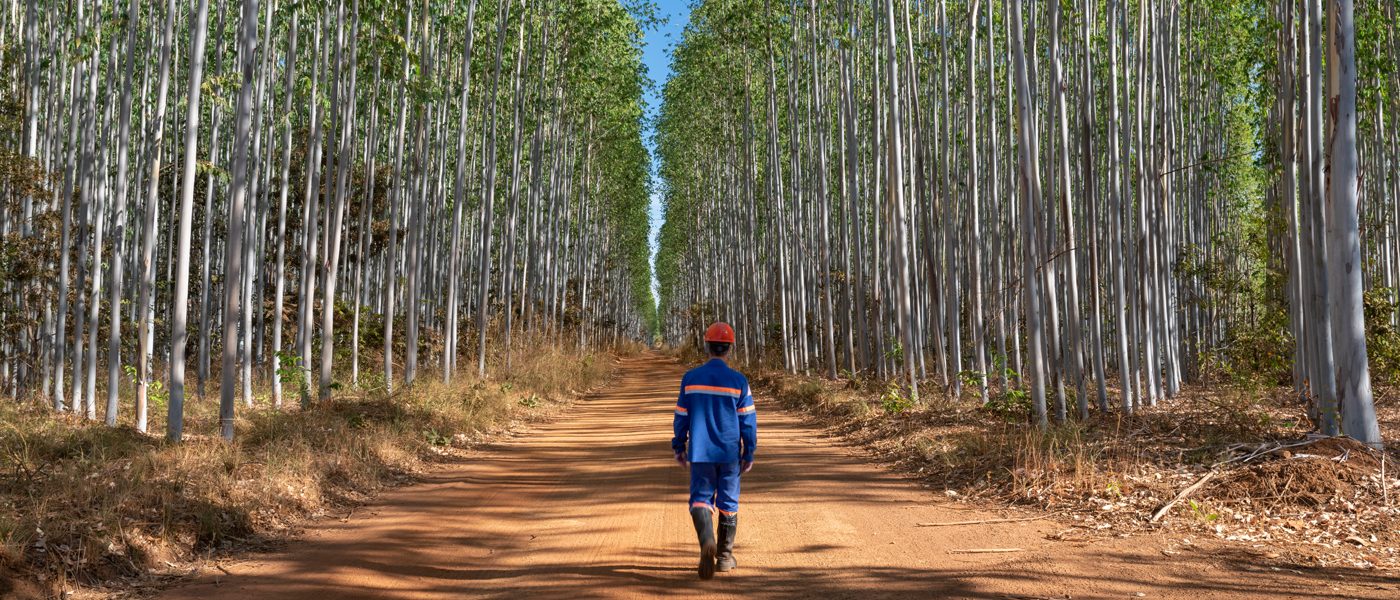 Anglo American
SHE and the Big 3
Anglo American's unwavering commitment to excellence in Safety, Health & Environmental (SHE) management, is integral to their Purpose to re-imagine mining to improve people's lives.
They are committed to a high performance and purpose-led culture in which everyone demonstrates strong leadership. By doing so, they work together to maintain a safe workplace, a healthy environment, and to build and maintain thriving communities everywhere they work.
Anglo American's SHE Policy describes the principles and expectations around managing safety, health and environmental risks and opportunities – the why. Their SHE Way describes the way they manage safety, health and environment risks and opportunities – the what. It is a systematic management approach that integrates with business processes and is part of a continual and cyclical process of performance improvement – the how.
The SHE Policy and Way had been reviewed, revised and was ready for launching to all audiences (leaders, team managers, employees and contractors (office and operational) and safety teams, across all Anglo American global operations.
The answer
To ensure all audiences understood:
What the SHE Policy and Way was (especially any material changes) and understanding how each individual/team can play their part in creating the change needed.
The SHE Policy and Way was an integral contributor to Anglo Americans Purpose and SMP – connected to a higher order. And;
That the SHE Policy and Way applies to everyone at Anglo American and isn't just the concern of the Safety Department.
Which ultimately meant we could ensure everyone across global operations acts in accordance with the SHE Policy and Way – taking the practical steps needed to play their part, and leaders/managers/safety teams embed the required behaviours to achieve this.
The solution
Phase 1. The SHE Policy campaign was focused on making the key principles of the Policy very simple, easy to remember and understand. We developed the top-level campaign messaging of SHE the Big 3: Zero Mindset (always aware). No Repeats (always learning). And Simple, non-negotiable standards (always the right way). This was then applied to communications which brought in the responsibilities and actions people needed to deliver against to ensure the principles were met:
Leadership: be all for one
Integration: keep SHE front of mind
Implementation: identity, apply and manage
Governance & Compliance: Know the specifics
Continuous Improvement: report share and learn
Deliverables for this stage of the project included Posters, Interactive PDFs, Plasma Screen animations, Briefing Decks and an Animation, all in English, Spanish and Portuguese.
Phase 2 of the campaign was focused on the SHE Way. It brings to life Anglo American's values and principles of Zero Mindset, No Repeats and Simple Non-negotiable Standards and is essential to achieving the goals of the FutureSmart Mining programme.
The SHE Way Standard explains what Anglo American businesses and operations must include in their SHE management system. It is part of a suite of documents including the SHE Policy, SHE Way Specifications and SHE Way Toolkit, Technical Standards (AA TS) and Safety and Sustainable Development Standards (SSD) and Specifications, External Standards and Certifications adopted by Anglo American.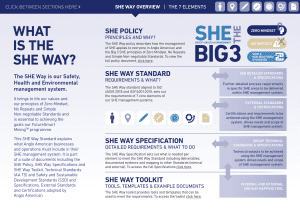 The Standard and the seven Specifications previously existed in very copy heavy, unengaging word documents. We turned this into content light, more visual and engaging interactive pdfs that not only made them easier documents to work with, but easier to learn from continuously. Throughout the Specifications, we aligned each with the relevant content, tools and templates available within the toolkit (50+ tools and templates we built), and demonstrated how each specification fits in with the overall SHE Way Standard. We also created a SHE Way Roadmap, making it easy to identify the tools available for delivering against each specification.
Other deliverables included briefing decks for leaders. Two animations, one demonstrating what's changed in the new She Way, and the other bringing external requirements to life.
"Working with Lucent is always such a pleasure, the team just seem to get what we are trying to achieve and very little back and forth always makes for easy and enjoyable work. What they bring to the table is beyond design and in every instance has served to make our communications, our documents and our materials user-friendly, impactful, engaging and effective.
The team also go above and beyond in terms of the ask, helping us problem-solve, rework and deliver superior end products even when we ourselves aren't clear on what would work best or drag our heels on providing input. Communication is clear, quick and the team is accommodating and efficient.
Lucent are always my first choice and highly recommended to anyone who asks."
Kris Miller
Principal: Safety and Sustainable Development Management Systems and Assurance